About This Fundraiser
Perspectives USA has been undaunted by COVID-19, adapting as necessary while continuing to see God awakening the body of Christ to His global purpose. Precautionary measures, the use of technology for Kingdom purposes, and prudence in budgeting enabled Perspectives to continue mobilizing this year.
We are thrilled with all that God is doing through Perspectives and our regional strategic growth initiatives. Perspectives aims to expand classes into new areas and equip new leaders through these strategic mobilization efforts, but we need your help. Your financial support will enable 2021 to be a year of expansion!
Your generosity will:
- Fund strategic classes in new areas and new demographics
- Provide scholarships for Perspectives Coordinator Workshops
- Subsidize the cost of Coordinator Workshops
- Fund local promotional events such as Pastor's Breakfasts or Taste of Perspectives gatherings
Your generous participation enables us to reach new regions and start new classes through this strategic mobilization effort. Will you prayerfully give a one-time gift before the end of the year? Or, will you consider giving monthly to provide long-term stability?
Set up a monthly gift here: https://give.perspectives.org/Strategic
Your gifts go directly to Kingdom expansion.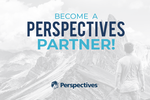 You have a vital role to play!
We invite you to support the awakening and mobilizing of the Body of Christ to the global command of Christ to reach every tribe and people group for His glory. This is at the heart of everything Perspectives does!
Your gifts will help fund ongoing mobilization, operational tasks, IT, the finance team, and other special projects. Each of these areas would not be possible without the support of all of you!
Please join the Perspectives movement today by becoming a Strategic Partner. A Strategic Partner is invested in seeing this mission lived out in the many ways Perspectives works to do so. With either monthly giving or one-time gifts, you can help drive mobilization and awakening of the Body of Christ!
BY BECOMING A STRATEGIC PARTNER, YOU WILL:
Receive our Perspectives Annual Report

Receive our Perspectives Prayer Calendar download

Support improvements to existing infrastructure

Facilitate new areas of ministry development