About This Fundraiser
Perspectives USA has been undaunted by COVID-19, adapting as necessary while continuing to see God awakening the body of Christ to His global purpose. Precautionary measures, the use of technology for Kingdom purposes, and prudence in budgeting enabled Perspectives to continue mobilizing this year.
We are thrilled with all that God is doing through Perspectives and our regional strategic growth initiatives. Perspectives aims to expand classes into new areas and equip new leaders through these strategic mobilization efforts, but we need your help. Your financial support will enable 2021 to be a year of expansion!
Your generosity will:
- Fund strategic classes in new areas and new demographics
- Provide scholarships for Perspectives Coordinator Workshops
- Subsidize the cost of Coordinator Workshops
- Fund local promotional events such as Pastor's Breakfasts or Taste of Perspectives gatherings
Your generous participation enables us to reach new regions and start new classes through this strategic mobilization effort. Will you prayerfully give a one-time gift before the end of the year? Or, will you consider giving monthly to provide long-term stability?
Set up a monthly gift here: https://give.perspectives.org/Strategic
Your gifts go directly to Kingdom expansion.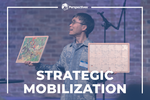 The Strategic Mobilization Fund
Perspectives is uniquely poised for impact.
Perspectives USA has been adapting, pivoting, and adjusting to a world altered by the pandemic. Our omniscient God is unhindered in accomplishing His global purpose. We have been privileged to see Him awakening the Body of Christ in new and exciting ways.
There is a sense of anticipation among the Perspectives staff that God is about to "unleash" Perspectives USA. The growing momentum of our movement has Perspectives USA uniquely poised for mobilizing unlike any other time in our history.
It is an exciting time to be a part of what God is doing!
Here are a few of the things we've been celebrating:
The Classes planned for 2022 are more than double the classes in 2021

177 Coordinators were trained in 2021

25 Perspectives Coordinator Workshops were held

150 Students were coached via Perspectives Next Steps Network

42 Agency Partners established agreements with Perspectives

Launched Perspectives Explore - training for new & potential staff

Significant progress on the new website
We need your help to sustain and accelerate our momentum through your financial support. Your gifts to the Strategic Mobilization Fund provide resources for ongoing mobilization, the start of classes in new areas, new training initiatives, operations costs, and special projects.
Your gifts to the Strategic Mobilization Fund are indeed strategic!
We thank God you share our passion for reaching the nations!
And, if you choose to give, we sincerely thank you for your generosity.